Topping out speech
Chair of trustees, John Cole, thanks everyone involved with the new Fairfield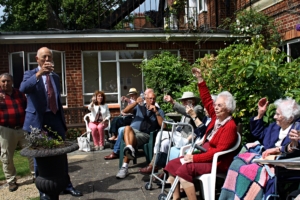 At the topping out ceremony to mark the highest point of the new building on 3rd July 2017, John Cole, chair of Fairfield trustees made this speech:
I love the idea of marking the finishing off the top part of a new building by a "Topping Out" ceremony and it is a great privilege for me, after 30 years as a trustee of Fairfield, to have had the symbolic task of finishing the roof with a trowel of concrete.
Getting to this stage has not been easy and has involved the hard work and support of many people.
Fairfield's long-suffering committee has spent several years bringing to reality the concept of creating a state of the art new home and today's ceremony represents a major milestone for the committee and for the present and future residents of Fairfield. I would therefore like to take this opportunity to publicly thank my committee, both past and present, for their foresight, courage and wisdom throughout this process. Quite simply, this project is, by far, the most important that Fairfield has undertaken in its 70-year existence and yet here we are, with the end product in sight and the future assured for generations of residents.
Included in my thanks to the committee are those to Fairfield's manager, Alison Parry, who in addition to the day to day role of looking after the residents so well, has guided the committee on the design and facilities of the new home. It has been a great help that Alison has had such a clear idea of what is necessary to make the new home work to the best advantage for its residents.
We are very excited about the future in our new home and will look forward to showing it to you with pride when it has been completed.
This project has of course involved the skills and support of many, many people, so it is difficult to name them all.
However, I would like to acknowledge with grateful thanks the contributions made by some of them
Frank Marshall of University College, our collaborators in the development of this site, whose desire to work in partnership with Fairfield has been real and who has helped on many occasions to smooth the way towards completion.
Steven Sensecall, our planning consultant, who led us through the tortuous planning process involved in obtaining planning permission in a conservation area.
Our architects, Nick Caldwell, Brian Donnelly and Jeanine Baker-Wilson at Oxford Architects.
David Woodnorth and his team at Ridge & Partners for their quantity surveying skills and Phil Baker and his team at Ridge M&E.
Charles Soothill and his team at AKS Ward, our structural engineers.
Nigel Aplin, Richard Todd and Gemma Graham of Bidwells, our project managers.
Paul Hardy, George Edward, David Jones, Chris Smith and Alex Allinson of Kingerlee, our building contractors.
And finally I must record my thanks and those of all the committee members to Kevin Minns who has taken on the enormous responsibility of being the committee's representative on the project, a role he has performed brilliantly.
What you, and many other who I have not been able to mention, have done as a group is to work together to produce what I know will be an amazing building in which we will be able to provide our residents with levels of comfort, enjoyment and facilities far ahead of those we can offer I our present building, whilst at the same time retaining the ethos and exceptional standards of care for which Fairfield is rightly famous.
We are very excited about the future in our new home and will look forward to showing it to you with pride when it has been completed.
Finally my thanks again to all who have been involved in the creation of the new building and we will hope for trouble free progress towards completion next year.
Read more about the topping out ceremony