Topping out the new Fairfield
Fairfield residents and trustees celebrate the topping out of our new care home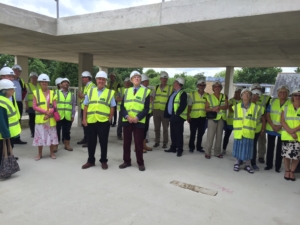 The construction of the new Fairfield care home reached an important milestone on Monday 3 July, which was celebrated with a traditional topping out ceremony. Fairfield trustees joined representatives from the builders, Kingerlee and project managers Bidwells to perform the ritual, which is held when the full height of the new building is reached and the framework is completed.
Kitted out in hard hats and high vis vests, the party stood on top of the building. John Cole, chair of Fairfield trustees, laid a ceremonial layer of cement with a special trowel presented by Kingerlee to mark the occasion before he said a few words thanking everyone involved in the project. Residents of Fairfield and their relatives watched from the safety of the ground before toasting the new building and enjoying traditional afternoon tea with scones.
Fairfield's John Cole said, "So many people have been working together to produce what will be an amazing building in which we will be able to provide our residents with the highest levels of comfort, enjoyment and facilities whilst at the same time retaining the ethos and exceptional standards of care for which Fairfield has become famous over the last 70 years."
As builders of the new Fairfield, we are very proud to host the topping out ceremony today. You can see how much this means to the current residents.
A particular highlight for Alison Parry, Manager of Fairfield, was comparing the old and new homes. She said, "From the top of our new building I could look down on the existing Fairfield care home and it reminded me of what a lot we have achieved over the last few years in getting to this stage. There is still a long way to go before we move in in a year's time, but milestones like this make me realise how marvellous it will be for our residents and staff to have a purpose built new home."
 The new Fairfield residential care home will have state-of-the-art facilities to provide enhanced care and a modern environment. The new home will accommodate 38 residents in en-suite rooms with a range of communal areas and recreational rooms that have been designed to make the most of natural light and views over the mature gardens. The new Fairfield residential home is expected to open in mid 2018.
The new Fairfield is an excellent example of collaboration between Oxford construction companies to deliver this North Oxford building.
Richard Todd, Group Partner of project managers Bidwells, added, "From the outset, the Fairfield residential care home project has been extremely collaborative and we have taken real pride in developing a final design for construction which has been consulted with key stakeholders. The topping out of the frame marks a momentous moment for the construction team led by Kingerlee. The development is on programme and within budget and the team will take delight in handing over the new home in 2018."
Paul Hardy, Kingerlee Construction Director, said, "Kingerlee are very pleased to be constructing the new Fairfield care home. We are working closely with the team to deliver this wonderful project and were very proud to host the topping out ceremony today. You can see how much this means to the current residents."