Respite care helps when making the decision to move into a care home
Often having a respite stay can help to ease the transition and make the experience more positive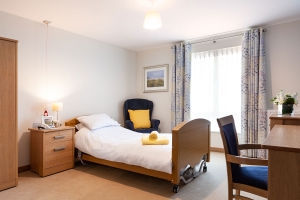 For many elderly people and their families, the decision to move into a care home is a difficult and emotional one. Often having a respite stay can help to ease the transition and make the experience more positive. This was the case with one of Fairfield's residents, an independent lady who lived on her own at home in North Oxford.  When her family went away for a few weeks, she moved into Fairfield giving her family peace of mind that she was being well looked after, well fed and safe in their absence.
Her son John writes: "When we went away on holiday, Mum would also take a holiday at Fairfield Care Home on the Banbury Road. She was a reluctant guest initially and was always eager to get home but she realised her vulnerability if family was not close by. The care she had at Fairfield was outstanding and she would reluctantly agree that she had been fed well and enjoyed the company of the other residents and the many activities organised on a daily basis."
Although John's mother was always keen to return home after her respite stay, eventually the increase in falls and alarm call outs made it clear that living alone was becoming too dangerous. Knowing Fairfield, she made the decision herself that the time had come to move. John adds, "There was no discussion, she knew it was the right thing and it had been her decision. I was completely taken back, expecting the move to a care home to be a battle, but within a week she had moved in to Fairfield 'until I'm better'."
John's mother managed the transition from living alone in her own home to living at Fairfield brilliantly. The family made their mother's room look like her house with small items of furniture, pictures and ornaments and, in the fullness of time, she came to think of it as home.
When the time came to move in, she knew it was the right thing and it had been her decision
She grew to enjoy the company of the other residents and soon became well known as a real character, chatting to staff, residents and visitors.
John's mother lived happily at Fairfield from 2017 until she passed away in May 2018. John is generous in his views of the care she received throughout. "The love, the care and the commitment of staff at Fairfield was second to none. They were magnificent and loved Mum."
Fairfield has a number of dedicated rooms for respite stays that can be booked in advance so that families can go on holiday knowing that their loved ones are being cared for. Even if residential care is not on the immediate agenda, events can happen that make a move to a care home more likely and having experience of respite stay can help elderly people make that decision more easily.
For more details on bookable respite care at Fairfield or to arrange a viewing contact [email protected] or call 01865 558413