What's been happening with the New Fairfield building in November?
Making the move to the new Fairfield home as smooth as possible for existing residents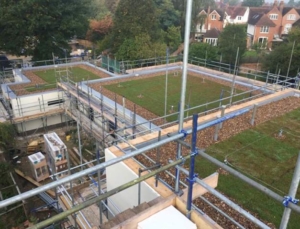 Existing residents, new residents and all their families are being kept fully informed of the progress of the new Fairfield at each stage of this major building project. This is what has been happening in November:
Internal finishes
New Fairfield should have all its windows installed by Christmas, which will mean it is then watertight so that work can start on fitting out the interior and sorting the internal finishes in the New Year.
After the project team has finalised the interior design concept they will turn their attention to the selection of soft furnishings, furniture and fabrics, which is an exciting part of the project and will involve many of our existing residents.
Gardens
A landscaping team is working on proposal for the landscaping and our garden area, which plays an important part for many living at Fairfield. Following a meeting with the Oxford City Council Tree Officer, the landscaping team will be fine-tuning their design proposals for the garden and paved areas ready for the Fairfield Committee to approve in early 2018.
I'm positive about change and I feel ready for the move. I'm most looking forward to a more open and sociable environment, with increased areas where it'll be easy to meet other people casually or take part in activities.
Cloisters
Also in January we will see timber cladding attached to the exterior of the buildings, and the cloister structure will be put in place.
Green roofs
The green roofs are planted and will provide an important microclimate for insects as well as other environmental benefits. Read more about our green roofs here.
Bidwells appointed as move managers
In order to make the move to the new home as smooth as possible for existing residents, Bidwells Move Management has been appointed to work with us. They have already started having regular visits to Fairfield to meet with residents to discuss which items of furniture, pictures and other items are to be moved.
Shortly, Toby from Bidwells and Debbie from Fairfield will be interviewing removal firms that have expressed an interest in quoting for the removals so that we can select the right team to carry out the physical work of lifting all the furniture and moving all our possessions carefully. Toby and Debbie will also begin their meetings with the residents to ensure that all individual needs are met when the move takes place.
The New Fairfield care home will open in June 2018. If you would like to find out more about the accommodation offered at New Fairfield please contact Alison Parry, manager, on 01865 558413 or care@fairfieldhome.co.uk