Green roofs on our new home
Green roofs provide environmental benefits as well as cost savings on heating and cooling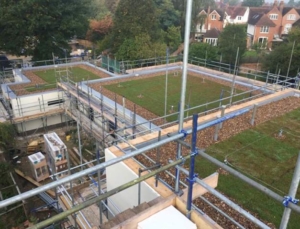 The building crane has gone from site and the green roofs are on! Green roofs we hear you say? Why did the architects decide that the New Fairfield should have green roofs?
What is a green roof?
A green roof uses vegetation as the finish for the roof covering instead of just the normal weathering materials and is therefore usually green in colour. The popularity of green roofs as an alternative to traditional roof finishes has grown due to their environmental benefits and cost savings they offer on heating and cooling.
At New Fairfield, we have a vegetated layer that sits on top of the conventional waterproofing layer of the building's flat roof. This not only gives a more creative dimension to the flat roof, but a green roof also provides a number of financial and environmental benefits.
The nearer we get to the opening of the New Fairfield, the better I can see what a wonderful home it will be for future generations of residents
What are the benefits of a green roof?
Green roof systems offer many advantages, the most important one is that they increase the life expectancy of the roof waterproofing and reduces whole life costs, which is a benefit to Fairfield.
Putting it simply, the benefits of a green roof include most of the following:Provides an important microclimates for insects
Reduces surface rainfall run off
Stabilises indoor temperatures
Improves sound insulation
Improves the life of the water proofing membranes
Reduces heating and cooling costs and improves the thermal properties of the building
Provides a natural habitat for displaced flora and fauna
So looking down, the roof appears green in colour and is a space for flora and insects but at the same time means that we will enjoy added insulation in our new care home.
The construction of our new care home is proceeding according to the timetable and budget so the anticipated time for occupation of New Fairfield is still June 2018. If you would like to find out more about the accommodation and facilities offered at New Fairfield please contact Alison Parry, manager, on 01865 558413 or care@fairfieldhome.co.uk