Do you care for an elderly person?
Much as you love them, sometimes it's a treat to be able to have some time for you to do the things you want to do.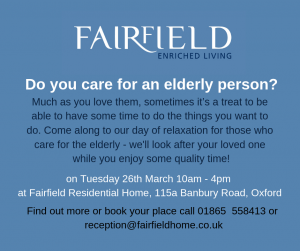 Fairfield Residential Home is holding a day of relaxation for those who care for elderly people to give them a break on Tuesday 26th March 2019 from 10am – 4pm.
Carers will remain at Fairfield during the day, enjoying some quality time being pampered, reading the paper, watching a film or just doing things they don't usually get to enjoy. There will be a hairdresser and podiatrist available to provide treatments during the day or carers can simply sit in the lounge and read newspapers and magazines, watch the television or a film and just relax!
Loved ones will be looked after by Fairfield's wonderful team of carers. They will be able to sit with residents, join in with the morning and afternoon activities, play a game or enjoy a hobby. Tea and coffee and a three-course lunch will be provided.
This event is free of charge but numbers are limited and booking is essential. You can download a flyer with full details here.
To find out more and to book call 01865 558413 or email reception@fairfieldhome.co.uk
We're looking forward to giving some of the amazing people who care for the elderly in their own homes a day off!