ZooLab visits Fairfield
ZooLab brings people and animals together to spark memories and conversations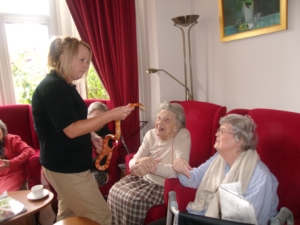 If you are scared of spiders then a visit from ZooLab is not for you! Fairfield residents however loved the recent visit from a ZooLab ranger who brought along a number of different creatures for us to touch and hold, many of which we would not have dared to handle had the ranger not been there!
The ZooLab ranger started by telling us about each of the creatures in his boxes which contained a tarantula, a giant centipede, a Corn snake, a giant African snail and a degu, which is a type of rodent closely related to guinea pigs and chinchillas. None of which are the normal cuddly animals that visit us regularly at Fairfield!
We heard about their habitats and what they like to eat, which are nocturnal, how they live and what they like to feed on. We asked lots of questions too. For example we learned that adult corn snakes have a docile nature, are reluctant to bite, are only moderately long when adult sizes and have an attractive pattern, all of which makes them a common type of snake to keep as a pet.
It was good to see residents enjoying the interaction with these wonderful animals
Each resident then had a chance to hold the creatures, which many of us did. The feel of the cold snake-skin, the slow, slimy movement of the snail, and the rapid, softer degu were very different sensations. Not everyone was keen to hold a tarantula, bit those who did agreed it was the chance of a lifetime to hold a dangerous spider in very safe circumstances!
The nice thing about this visit was the conversation it sparked and the memories of past experiences that touching and holding the creatures evoked – it really did get us all taking and reminiscing about times in the past when we had encountered similar creatures.
Animal assisted therapy brings people and animals together and helps people to see things differently. In the older generations, it sparks memories and gets them talking about their past, their life and asking searching questions to find out more about the animals they are holding. ZooLab works in care homes across the UK where being able to touch and hold an animal may very well be the brightest thing in someone's life.
Alison Parry, manager at Fairfield said, "It certainly was a very different visit from the other entertainers that come to Fairfield and it was good to see residents enjoying the interaction with these wonderful animals."