Fairfield's Training Manager honoured by Activate Learning
Jo Bennett, Fairfield's Training Manager, has been honoured by Activate Learning the national training provider, by being the first person to be awarded Activate Learning's Learning Philosophy Community Award in recognition of her support and commitment to staff at the home.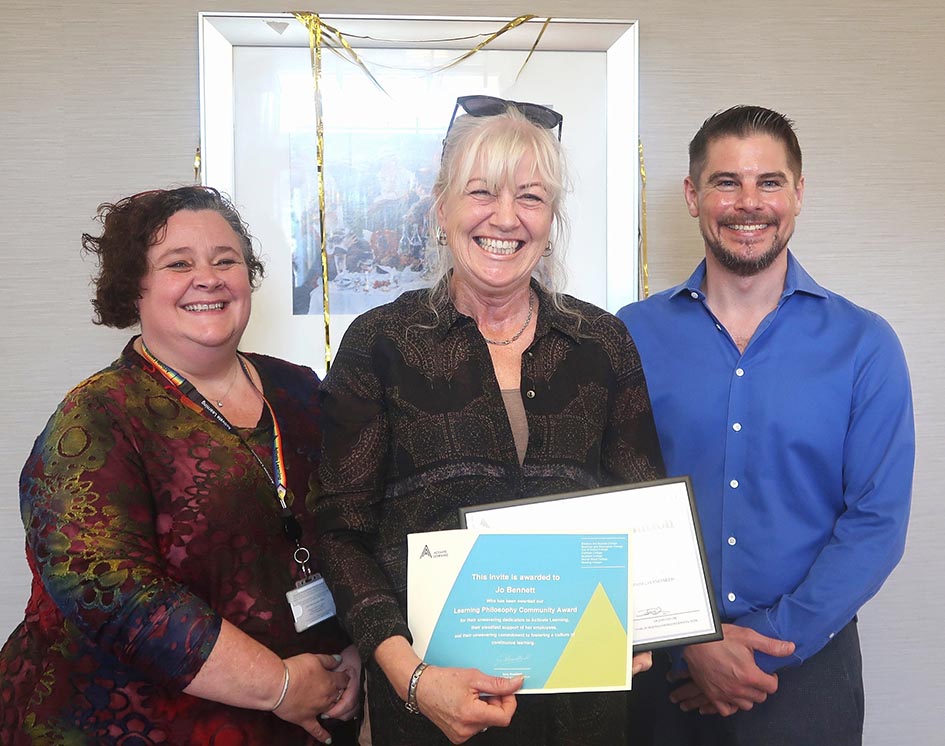 Jo Bennett (centre) received her award from Andrea Blackmore (Activate Learning's Performance Coach) and Bernard Grenville-Jones (Managing Director of Activate Learning Apprenticeships)
The presentation was made at a Celebration of Achievement Ceremony held at Fairfield last Saturday, attended by England's Chief Nurse for Adult Social Care, Professor Deborah Sturdy, who presented her new Team Award to the entire Fairfield Staff.  The ceremony was also held to present certificates and diplomas to staff who had completed qualifications ranging from NVQ levels 1 and 2 (broadly GCSE equivalent) to level 5 (foundation degree level), all of whom had been supported by Jo.  Their diplomas were presented by Andrea Blackmore, Activate Health and Social Care Coach and Tutor, and by Professor Sturdy.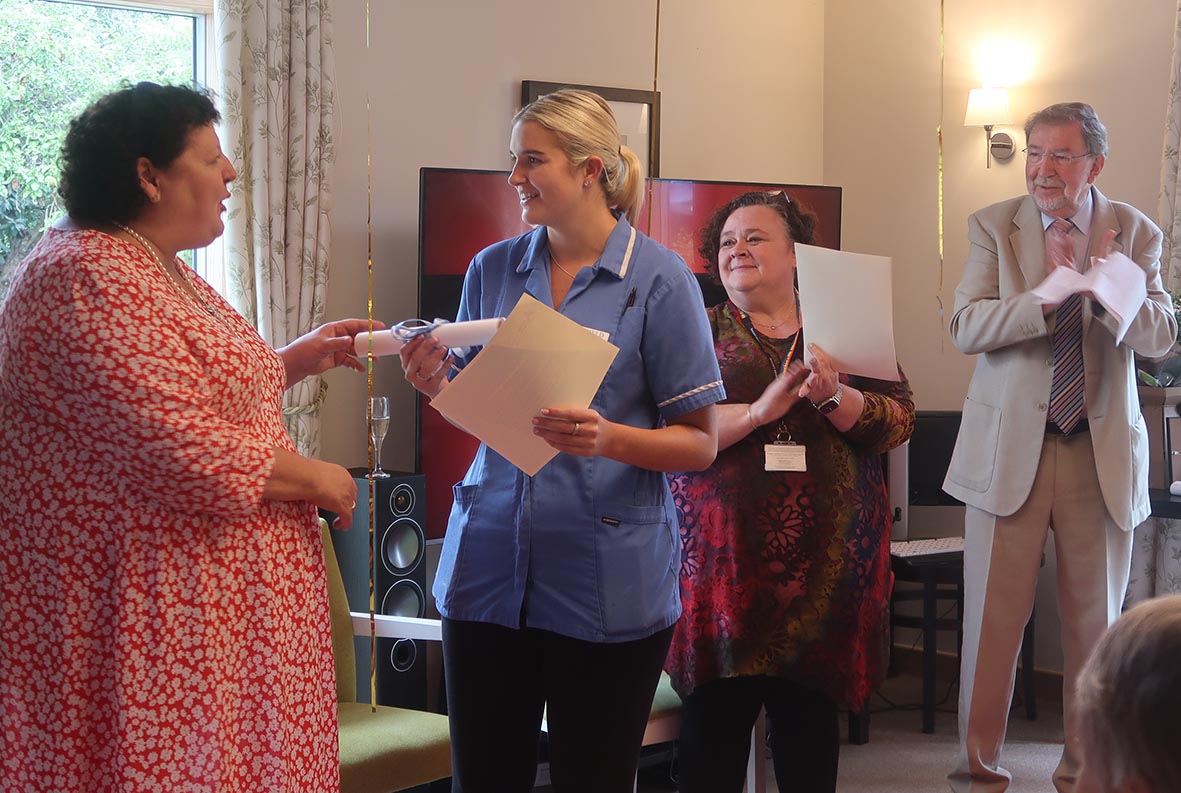 Care Assistant Faye Wilkins receives her Level 2 Diploma with Merit from Professor Sturdy
Activate Learning Apprenticeship's Managing Director, Bernard Grenville-Jones, then presented the Learning Philosophy Community Award to Jo Bennett.  He described the exemplary way in which Jo undertakes her role as training manager, engaging with learners and encouraging them to learn.  "If only everybody involved in apprenticeship training across the country could be more like you, Jo, we would have a much, much better world of work," he said.
If only everybody involved in apprenticeship training could be more like you, Jo, we would have a much, much better world of work
Bernard went on to describe the learning philosophy of Activate Learning which coincides precisely with the Fairfield way.  He said, "It is made up of three components: learners' emotions, their motivation, and understanding how they learn."
He explained: "In terms of emotion, it means feeling safe and supported, being able to take risks in learning without being made to feel a failure; in terms of motivation it is about understanding why you are learning, what it means for residents and people with whom you work and how It contributes to adult social care generally; and understanding how you learn, sometimes called metacognition, recognises that learning in the context of the job can be a very different experience from learning at school, using different learning styles which make topics more meaningful and understandable."
In presenting the award, Bernard said, "Jo, you are the first person in the UK to be awarded Activate's Learning Philosophy Community Award.  Enormous congratulations and I am delighted to say you will have wider recognition by being invited to the next Activate Learning Awards ceremony where your work will be celebrated alongside our own staff  who achieve Learning Philosophy Awards."
I want to say how much we appreciate the absolute quality of care and support that Fairfield offers.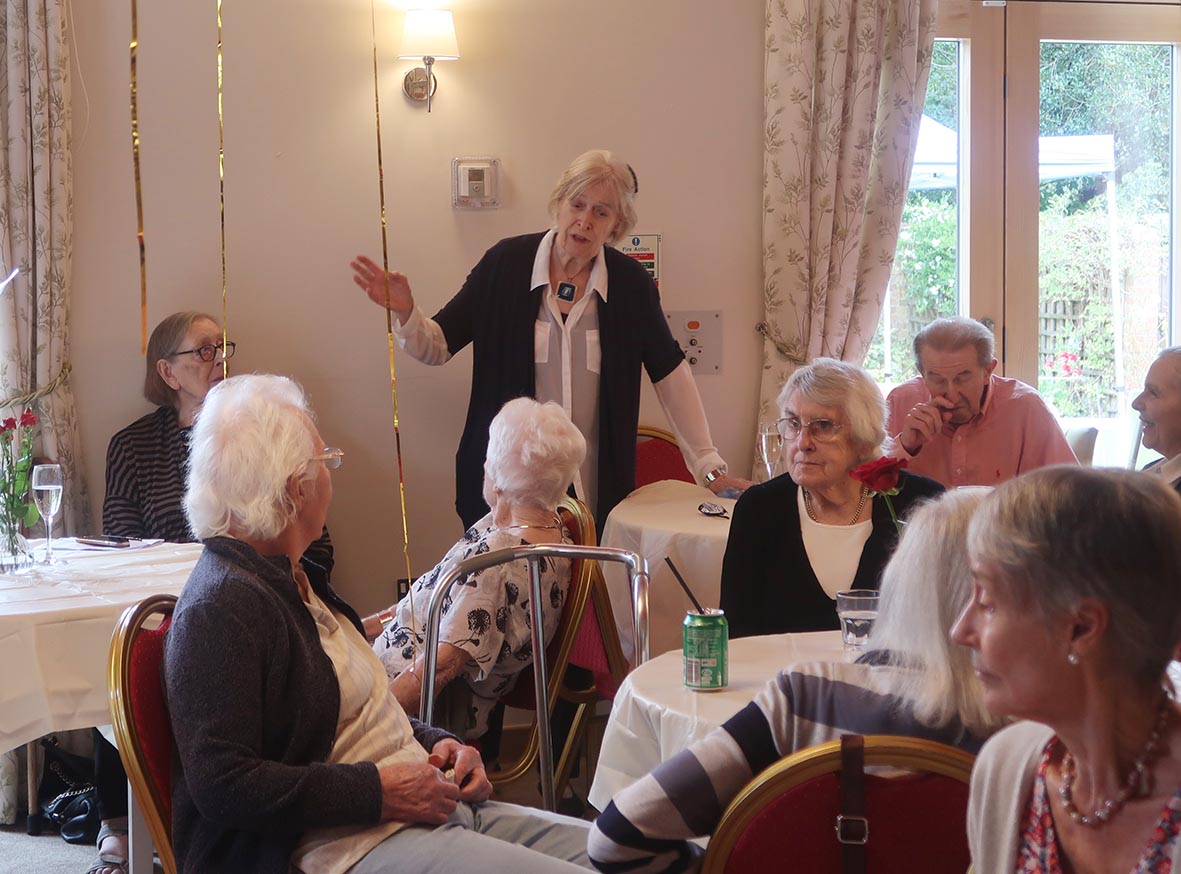 At the end of the ceremony, one of the relatives of a resident spoke of the huge respect and esteem in which Fairfield is held.  To calls of hear! hear! she said, "On behalf of all relatives and residents, I want to say how much we appreciate the absolute quality of care and support that Fairfield offers."
Speaking after the event, Jo said, "Supporting staff at Fairfield to gain qualifications is an essential element in delivering Fairfield's mission and vision – it is a real pleasure and very rewarding."