Staff pass NVQs in health & social care, management and Assistant Practioner
John Guy, Chair of Trustees, presents staff with their care qualification certificates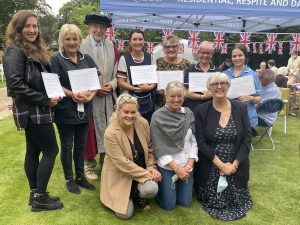 Residents, families, trustees and staff of Fairfield celebrated the achievements of some of the staff with an awards ceremony on Saturday 25th September.
John Guy, Chair of Trustees, presided over the ceremony in full academic dress as a mark of significance of the achievements.
Despite the additional challenges of working in a care home during COVID, Fairfield staff have still managed to study to further their skills, showing outstanding commitment and dedication.
The staff were required to demonstrate knowledge, skills, capabilities and competences across specified areas of the care sector, through the assessment of work-based evidence. All NVQs are tailored to meet the demands of an ever-changing workforce to deliver the highest level of care possible. The qualifications were equivalent to a diploma, degree and first year of a Masters Degree.
We are all very proud of these ladies for achieving their qualifications, which demonstrates their dedication to learning and desire to constantly improve
Fairfield encourages all our staff to undertake qualifications in order to progress their careers and to ensure that we continue to provide the highest standards of care for our residents.
Certificates were presented as follows:
NVQ level 2 in Health and Social Care
Tina Walton
Jade Smith
Ella Ochocka
NVQ level 4 in Management
Karen Conway
Sue O'Neill
Assistant Practitioner
Shannon O'Neill
Laura Cole
Michelle Williams, Director of Care, said, "We are all very proud of these ladies for achieving their qualifications, which demonstrates their dedication to learning and desire to constantly improve. The fact that they did this whilst under the huge pressures put on the care sector by the COVID pandemic is outstanding and a testament to their passion for caring for others."