Respite care at Fairfield
With carers on the increase it is no surprise that we are seeing a rise in people coming to Fairfield for respite care in one of our temporary stay rooms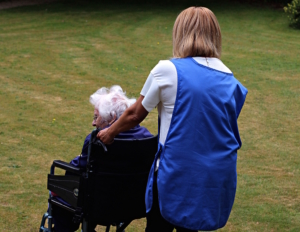 The statistics about the number of people caring for a grandparent, parent or parent-in-law at home are striking. According to the Guardian*, one in five people aged 50-64 in the UK are carers to an older family member. A third of the country's 6.5 million informal carers are aged 65 and over, while the number of those aged 75 and over has increased by 35% since 2001.
With carers on the increase it is no surprise that we are seeing a rise in people coming to Fairfield for respite care in one of our temporary stay rooms. This offers a welcome solution if carers need a break or want to go on holiday. It also provides the opportunity for the older person to get a feel for the care provided at Fairfield, which is important if they are unsure that a permanent move into a home is right for them. A temporary stay could help decide if a home offers the support needed when thinking about permanent care.
Here at Fairfield, we appreciate just how much hard work it is to look after older people everyday. To cajole and converse, to love and care, to help with simple everyday tasks and routines as well as entertain and amuse, all with time, patience and a smile. If you are a full-time carer or spend a lot of time caring for someone, it is important to make time for yourself, for the sake of your own health and wellbeing and to give you renewed energy to carry on caring.
It is lovely here, the atmosphere is wonderful and the care staff are amazing.
Sending your loved one to Fairfield for some temporary residential care can enable carers to take a break from caring and a well-earned rest. It also enables the people being cared for to enjoy a change of scene, of carers and to meet new people and try new activities.
Recently Greta returned for her second respite stay at Fairfield whist her son and daughter in law went on holiday for 2 weeks. Greta said how much she "..enjoyed the entertainment and the wonderful staff made me feel welcome. Nothing was too much trouble!"
Irene came to stay with us for a month and enjoyed it so much that she decided to stay permanently. She said " I really like it here. The staff are lovely and the other residents are welcoming and friendly." Irene loves the exercise based activities and the regular accordionist who she says makes it "….feel like a Parisian street café when he is playing."
Another new resident, Brenda, also came for a temporary stay for three weeks and decided to stay at Fairfield. "It is lovely here, the atmosphere is wonderful and the care staff are amazing." said Brenda. In particular, she has enjoyed the company of other residents and being closer to St Andrews Church in North Oxford where she has been a member of the congregation for many years.
*https://www.theguardian.com/membership/2017/feb/13/new-retirement-ageing-responsibility-carers-parents-children-care-crisis