Fairfield resident's art exhibition
Our talented residents held an Art Exhibition of their work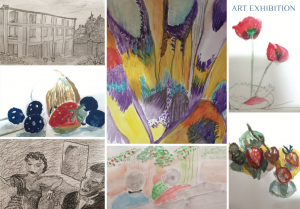 We recently held an Art Exhibition of resident's works of art. The Art Exhibition was curated for us by our art teacher, Claudia, who selected, mounted and displayed the pieces for each resident on coloured boards set on easels.
The pieces of art were done in different mediums including watercolours, acrylic paint, oils, pastels, pencil sketches and charcoal as well as clay models. Claudia also encourages residents to work in different scales so some of the paintings were in a small format and others were much larger. Each resident has their own sketchbook that they can sketch ideas in whist other times they use sheets of paper to create larger pieces.
The Art Exhibition focussed on some of the themes of 2019 classes including some amazing paintings of wild flowers picked in the Fairfield garden. A selection of summer fruits provided the subject for some edible still life paintings and drawings of houses and buildings challenged them to use architectural lines. Some of the most wonderful works of art were of each other as they sketched other resident's faces, many of which were so good everyone could recognise who they were of.
The residents love their art and even those who have never done art before discover new talents!
Fairfield residents have a busy programme of activities each week and one of the most popular is the art class. Our art teacher Claudia now runs two art classes such is the demand to paint, draw, sketch and model. Residents are asked what interests them and what they would like to have as a subject for the following week, which usually involves a lively discussion about past interests, places visited, pets, houses and holidays. In fact, they regularly chat throughout the class as they recall memories sparked by what they are painting that week.
Taking part in art is good for older people as it challenges them to keep their fingers and hands, not to mention their brains, nimble. Many of the residents had never had a go at doing any art before they came to Fairfield and yet they thoroughly enjoy the classes and were very proud to see their work on display. One resident is new to art and, although she struggles a bit with sketching, she is amazing at creating clay models.
Families, friends, staff and other residents enjoyed viewing the Art Exhibition, which was set up in the hub and the lounge for a week.