Oxford Open Doors
Fairfield opened its doors and garden as part of Oxford Open Doors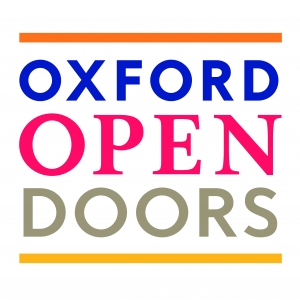 Fairfield opened its doors and garden as a venue in this year's Oxford Open Doors.
Oxford Open Doors is an annual event organised by Oxford Preservation Trust and the University of Oxford. It is a weekend when Oxford residents are invited to celebrate the city they live in, its places, spaces and, most of all, its people by exploring behind doors that are usually closed to the public.
University buildings and churches; museums and theatres; locks, cemeteries, fire stations and even a swing bridge all open their doors over the Oxford Open Doors weekend for people to take a glimpse inside. There are also guided walks around the city.
Fairfield was open on Saturday 8th September from 2pm – 5pm when visitors were able to wander around the garden to see the orchard and the 50-year-old rose garden. Tea and refreshments were served in the main hub area of the new care home where the residents enjoyed talking to visitors about life in their new home. Visitors had an opportunity to have a guided tour of the communal areas on request.
We are looking forward to playing our part in Oxford Open Doors for the first time
Construction of the new Fairfield residential care home was completed earlier this year with the residents moving in in July, so this was the first time that Fairfield has been a venue during Oxford Open Doors.
John Cole, chair of trustees said, "We enjoyed being part of Oxford Open Doors and welcoming visitors to Fairfield. Oxford Open Doors is a wonderful opportunity to have a look at parts of the city that are not usually accessible, including our lovely rose garden and orchard."
Oxford Open Doors was from 8th to 9th September 2018. For more details visit https://www.oxfordpreservation.org.uk/content/ood-events