Owls pay a visit to Fairfield
Part of our stimulating weekly programme of activities at Fairfield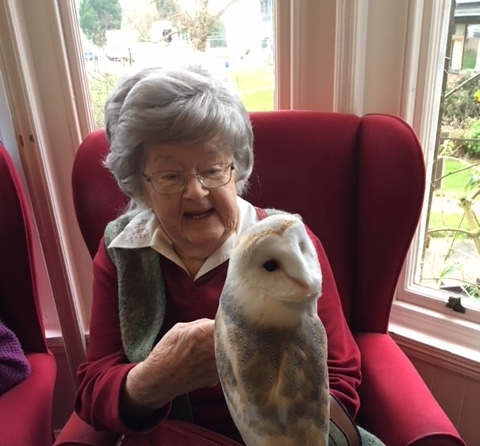 Residents at Fairfield welcomed some unusual feathered visitors when we enjoyed a visit from Al's Owls. Alan Charlett of Al's Owls is a regular visitor to Fairfield residential care home and this time he brought in three of his hand-reared owls to show us.
The largest owl is called Monty and is an Indian Eagle Owl whilst Nipper was the smallest owl of the three visitors. Nipper is a white-faced copse owl. Al also brought Catty, who is a beautiful barn owl, to see us. Apparently, barn owls are now endangered species so we were lucky to be able to see Catty up close and to admire her beautiful feathers and huge wingspan.
Some of us donned a protective handling glove so that we could hold the birds and we were able to stroke them too, which we all agreed was an amazing experience. They also seemed quite happy perched on a resident's walking frame listening to us ask Al questions!
It was a wonderful experience to hold and stroke these beautiful owls.
Al also told us lots of interesting facts about owls and the way they live in the wild. We found out that owls pair for life and yet only live together for 8 months each year whilst bringing up their young. The babies live with their parents for about 16 weeks before they fly the nest. A pair of owls will use the same nest for 20 years, returning each year to lay another batch of eggs and hatch another set of chicks. Another interesting fact that we learnt was that owls cannot fly in the rain as their feathers are not actually waterproof!
We have a stimulating weekly programme of activities at Fairfield and we look forward to a return visit from Al and his owls when we move into our new home in June.
For further information contact us at care@fairfieldhome.co.uk or call 01865 558413