We have our very own Fairfield minibus
Fairfield residents can now enjoy outings and visits in our new minibus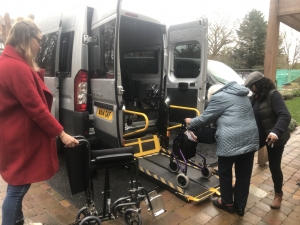 We've recently taken delivery of a minibus, which means that the world, or at least Oxford, is our oyster!
We are very excited that we can now go on outings whenever we want. We've already been into Oxford to Blackwells bookshop, to the shops, to Pitt Rivers Museum and to the Ashmolean. Having our own transport means we can go to local garden centres for afternoon tea or morning coffee and a bit of shopping. Yarnton Home & Garden and Millets Farm Centre have already become popular destinations and we're looking forward to heading over to Burford Garden Centre in the spring.
The minibus has seats for 8 people and has a powered lifting tailgate so that residents in wheelchairs or those with limited mobility can get in and out easily.
However difficult it is for us to get around, we will be able to join in with the outings in our new minibus. It really is very exciting.
The residents have set up a committee to decide where to go, places they want to visit and things they want to do. The Fairfield activities team will then arrange a weekly programme of outings based on these suggestions. For residents who enjoy culture, we are currently organising trips to the theatre, musical concerts and the cinema as well as planning trips to Blenheim Palace and Wadesdon Manor.
We're also trying to fulfil our resident's bucket list wishes. One resident wants to have a trip to Bournemouth for fish and chips on the beach, so when the summer arrives we're off to the seaside!
Ultimately, Fairfield is planning to work with the local North Oxford community to provide transport for elderly people who live independently in and around Summertown. We are also now able to offer transport to carers and their loved ones attending our carers days and to collect people for day care.
One resident said. "The minibus opens up the outside world to us. We're no longer tied to being indoors however difficult it is for us to get around, we will be able to join in with the outings. It really is very exciting."