We welcome John Guy as the new Chair of Trustees
John's mother was a former resident so he is well acquainted with the ethos of Fairfield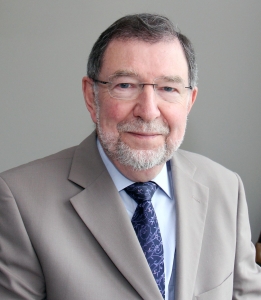 Fairfield has appointed John Guy, OBE as Chairman of the Fairfield Committee of Trustees.
John's mother was a resident of Fairfield before the move to the new home, so he is well acquainted with the ethos of Fairfield and the commitment of the Staff and Trustees to providing exceptional care to the Residents.
John was born and brought up in Oxford, living in Summertown until he went to University. He was educated first at the Oxford School before obtaining a first class degree in pure chemistry at Birmingham University. His OBE was awarded for services to education, which included being a governor of Oxford Brookes University as well as service on a number of Government and other committees and Principal and Chief Executive of the Sixth Form College, Farnborough.
Fairfield is owned by a registered charitable company overseen by a Committee of Trustees who have the experience, expertise and vision to ensure that Fairfield offers excellent standards of care in a safe, compassionate and happy environment. As the new chair, John now heads the Committee of Trustees, which has a guiding role to watch over the Operations Team who run the home on a day to day basis.
John said, "When I was invited to become a Trustee I was delighted to accept, knowing how important Fairfield had been to my mother – and to my own peace of mind.  It is a huge honour, now, to be appointed Chairman and I am humbled by the confidence that the other Trustees have expressed in me.  John Cole is a very hard act to follow having contributed so much to so many residents over so many years.  His legacy is the wonderful purpose-built home that we have today and an ethos which remains so genuinely supportive and stimulating, enriching the lives of all. I pledge to follow his example, seeking further ways to provide outstanding care to current and future residents, and to build strong links with University College with whom we share our wonderful Banbury Road location."
I pledge to follow John Cole's outstanding example, seeking further ways to provide outstanding care to current and future residents
John and his wife Maggie, a Palliative Care Physician, moved to Oxfordshire in 2014, where he was better placed to assist his elderly, widowed mother who lived in Summertown. From time to time she enjoyed respite stays at Fairfield but, as she approached her 101st birthday, she felt ready to move into Fairfield on a more permanent basis.
John says: "The love and care provided by Fairfield was magnificent.  The worries of looking after her house, and the constant fear of falling, suddenly evaporated and she found her life was enriched by Fairfield's wide range of activities including exercises, musical performances, art classes and a whole variety of visiting exhibitions; on one occasion, we even found her with a penguin sitting on her lap!  Sadly, she died just a few weeks before New Fairfield opened, so she didn't have the opportunity to move into the room she had chosen."
Read the story of John's Mother here.