We can now say that we are moving this year!
Building progress of our new care home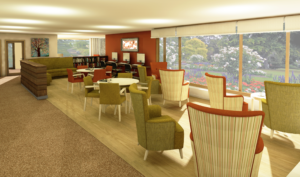 After years of planning, at last we are into 2018 and can say that we are moving this year. Our fabulous new care home will open in June with additional accommodation for more residents keen to live in North Oxford.
On time
Despite the snowy and cold weather before Christmas, Kingerlee who are the building contractors for New Fairfield, are confident that they will be completing on time and that we will be able to move to the new building in June 2018.
Furniture ordered
We are working with HomeSmiths on the interior design of New Fairfield. HomeSmiths have a wealth of experience in design interiors for care homes and have been helping us with the selection of soft furnishings, furniture and fabrics to make sure that the new care home looks amazing. After extensive consultation with the residents and the Committee, on style, colours and comfort, HomeSmiths have now ordered the furniture for New Fairfield.
Show bedroom
Progress is being made with setting up the show bedroom for residents and those interested in becoming residents to view shortly.
I am very confident that we will succeed in our aim of producing a new care home without losing the essential feature of Fairfield, its ethos of homeliness and great care.
New activities programme
The new building gives us the opportunity to enlarge the range of activities that we can provide to residents by making full use of the additional facilities offered by New Fairfield. With an IT suite, fitness and beauty rooms as well as large lounge areas and gardens, the New Fairfield will offer lots of new activities to keep resident's bodies and minds fit and healthy.
Continuing the Fairfield ethos
The ordering of the furniture and fittings for the building is a key step towards bringing New Fairfield to life. I had found it difficult to visualise what the new home would look and feel like until I saw the chosen colours, furniture and fittings! I am now very confident that we will succeed in our aim of producing a new care home without losing the essential feature of Fairfield, its ethos of homeliness and great care."
The New Fairfield care home will open in June 2018. If you would like to find out more about the accommodation offered at New Fairfield please contact us on 01865 558413 or care@fairfieldhome.co.uk