Magdalen College School students are regular visitors to Fairfield
We enjoy the lower sixth community service visits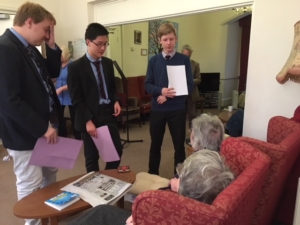 We have been enjoying the company of some young people from Magdelen College School in Oxford, who come to visit us each week as part of their lower sixth community service programme.
It's always a highlight of the week when students make time to be with us and one particular visit was much enjoyed by all the Fairfield residents.
Recently, a talented group of 5 boys and a girl brought their instruments with them and played us some wonderful classical music pieces as a quartet of a cello and 3 violins. One of the boys gave a solo cello and solo vocal performance, which was outstandingly good and much commented upon by all the residents.
After the classical music, the group put their instruments aside and sang a set of more modern tunes for us, joined by their 2 masters who also took part in the singing.
John Cole, chair of Fairfield trustees, was there when the group from Magdalen College School was playing and commented how good they were.
Residents enjoy engaging in wide ranging conversations with the students
Once the musical entertainment had finished, to a round of applause, the students spent a very generous amount of time talking to us about their love of music and their passion for learning an instrument. It brought back many happy memories to Fairfield residents of former times when they played a musical instrument or when their children and grandchildren were learning and gave an impromptu performance in the living room.
We are always grateful to the younger generation for giving so generously of their time to entertain us. From musical entertainment to just engaging in conversations, we get a lot of pleasure from their company and enjoying their talent. Thank you to Magdalen College School – we look forward to seeing you again soon!