Coull Quartet play at Fairfield
Fairfield residents love listening to live music, especially when professional musicians play for us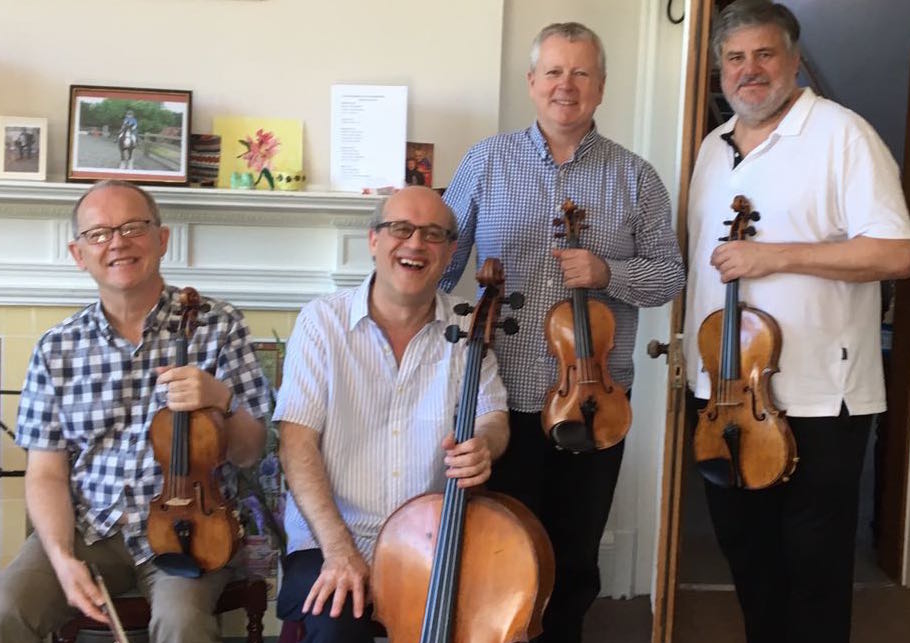 On the 5th July 2017 the internationally renowned Coull Quartet performed at Fairfield to the delight of our residents. Once everyone was settled in the lounge, the performance could begin. Led by Roger Coull on the violin, this talented string quartet played a selection of pieces by Shubert, Beethoven and other well-known composers.
Alison Parry, manager at Fairfield said "It was wonderful to watch the residents as they listened intently to the music, to see their eyes and faces light up with pleasure. Many remembered when they too played an instrument or reminisced about music concerts they had been to in the past."
Fairfield residents love listening to live music, especially when professional musicians visit. Live music has a powerful role to play in improving the daily lives of older people in care homes. Memories are revived and all kinds of emotions are released, as people listen to the music. It also brings joy and stimulates conversation as well as boosting the body's immune system, reducing anxiety and helping to regulate mood.
After the concert, Fairfield residents were asked for their views and thoughts. Most said that the music was "Beautiful" and "Magnificent". One lady commented that the four players were "Very polite gentlemen" but everyone agreed with the resident who said it was "Wonderful, very entertaining". Maybe the old adage that 'music is medicine' may be true. It certainly was 'music to our ears'!
It was wonderful to see the resident's faces light up with pleasure at the beautiful music.
The Coull Quartet was formed in 1974 by students at the Royal Academy of Music and they rapidly achieved national recognition, being anointed Quartet-in-Residence by the University of Warwick in 1977. It consists of Roger Coull and Philip Gallaway on violin, Jonathan Barritt on the viola and Nicholas Roberts who plays the cello.
The Coull Quartet has performed and broadcast extensively throughout the UK, and has made tours of Western Europe, the Americas, Australia, China, India and the Far East. We were so pleased that they took time from their busy schedule to entertain us with their playing. Residents were entranced by the sound of the chamber music and the dexterity of the player's fingers on the strings as they made such beautiful music.
Find out more about what activities are on the programme this month for Fairfield residents by visiting Life at Fairfield.