Oxford care workers travel 160 miles for Coronavirus testing
John Guy raises the issue in The Times and on BBC Radio 4's Today programme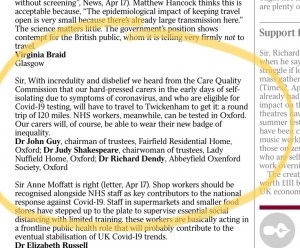 John Guy, our Chair of Trustees, has been raising the issues care homes across the UK are facing with the lack of testing for COVID-19 on national radio and the mainstream press.
Following a letter received from the Care Quality Commission on Friday 17 April, John was outraged to discover that care-home workers in Oxford have to travel to Twickenham for testing.
John has been working with the chairs of Trustees of other Oxford care homes who are all dismayed at the inequality in testing for their care staff compared to that available for NHS employees.
They had a letter to the editor published in The Times on Saturday 18 April that read:
Sir, With incredulity and disbelief we heard rom the Care Quality Commission that our hard-pressed carers in the early days of self isolation due to symptoms of coronavirus, and who are eligible for Covid-19 testing, will have to travel to Twickenham to get it; a round trip of 160 miles. NHS workers, meanwhile, can be tested in Oxford. Our carers will, of course, be able to wear their new badge of inequality.
Dr John Guy, chairman of trustees, Fairfield Residential Home, Oxford; Dr Judy Shakespeare, chairwoman of trustees, Lady Nuffield Home, Oxford; Dr Richard Dendy, Abbeyfield Oxenford Society, Oxford
We had anticipated that care staff would be able to go to the Coronavirus testing centre in Oxford, but they have to go to Twickenham!
This was followed up with a live interview on BBC Radio 4's Today programme on Monday 20 April. The BBC interviewer, Sarah Smith, and John spoke for 5 minutes about the barrier posed to Oxford care workers by having to travel to Twickenham for testing.  Setting aside the cost of transport, having to travel such a distance whilst feeling ill and having to look after their children will put most off attempting to be tested.
John said "CQC sent care homes the details of how they would test carers showing symptoms of coronavirus for COVID-19. We had anticipated they would be able to go to the testing centre established for NHS workers at the Churchill in Oxford. But no, they have to go to TWICKENHAM! My first reaction was that there must be another care home with the same name in Middlesex, and we had been mixed up … However, there was no mistake…. Twickenham …. or Edgbaston is the next closest.
So our care workers, among the least well-paid of the health and social care community, often without transport of their own, have impossible journeys, whilst unwell, to get tested. I suspect the take-up will not be great."
You can listen to John's interview on BBC Radio 4's Today programme in full here.