Life at Fairfield during the Coronavirus lockdown
Fairfield staff rally to make life in lockdown the very best for residents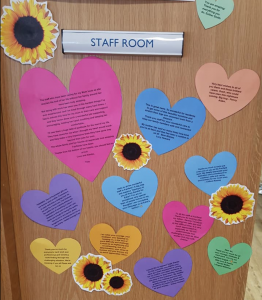 These are unprecedented times for everyone, none more so than for the elderly in care homes who are living through the Coronavirus lockdown away from family and friends.
Fairfield is committed to ensuring that we keep all our residents and staff as safe as possible and we are taking every necessary precaution to protect our residents. We are following the guidance from the Government in what is a fast changing situation and the management team is constantly adapting procedures in line with guidance.
With residents spending more time in their rooms, no visitors permitted, and social distancing required, we are all having to adapt and learn to live in a different way. The Fairfield team have risen to the occasion, by going above and beyond to make residents feel at ease, to keep them entertained and happy, to ensure they keep moving and fit, to continue to make sure they are well fed and cared for.
Each Thursday at 8pm we join in with the clapping for the NHS and we clap especially hard for all the Fairfield team
Obviously we have cancelled all our external activity providers such as keep fit, hairdresser, podiatrist, art teachers and performers, but our residents are still enjoying a full programme of activities organised by our staff.
The corridors on each floor have become the new hub of our lives. We've enjoyed organising some community singing with residents sat outside their bedroom doors along the corridors and we've even been running some seated exercise classes, corridor by corridor.
The staff have made up individual art and craft packs which are delivered to each resident to do in their rooms and there are allocated times for corridor walks which have now developed to walks in the grounds to avoid meeting other people.
We now take the mobile shop to residents so that they can buy treats, greeting cards and toiletries in the comfort of their own rooms. The staff had even put on dance shows in the garden so that all the residents can watch from their windows and they have picked up microphones to sing for the residents.
Emotional and mental health is key at these times, and we have been spending lots of one to one time chatting to residents about their past lives, their families and their interests.
Keeping in touch has never been so important and we have invested in some tablets to enable us to help residents connect with their friends and families with video calls. Seeing their loved ones, even if it is only on line for the time being, really does put a huge smile on everyone's faces, residents and families alike.
Our wonderful staff are doing all they can to ensure that life at Fairfield continues as normal throughout these challenging times. Each Thursday at 8pm we join in with the clapping for the NHS and Carers and we clap especially hard for all the Fairfield team, some of whom have even moved in to Fairfield for the duration to protect residents as well as their own families.