Christmas menus to delight
 Festive food from Christmas Day to New Years Day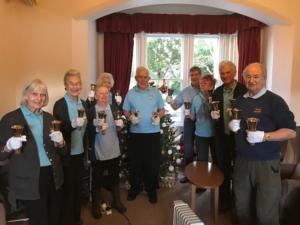 Christmas at Fairfield is a very special time of year when we enjoy some delicious festive Christmas menus. Our chef prepares the food in house and delights in treating us to traditional Christmas dishes that help us to celebrate the festive season.
This year we enjoyed the traditional turkey on Christmas day complete with all the trimmings followed by Christmas pudding, just like we used to have at home. The dining tables were laid up with Christmas serviettes and crackers for everyone and we wore our paper hats and read out the jokes along with many other households around the UK.
Each morning in Christmas week our coffee was served in the lounge with festive sweet treats like stolen, tiffin, luxury shortbread or mince pies and afternoon tea was accompanied by Christmas cake or Panetonne. After dinner coffee is always served with chocolates and to mark the special occasion, we had a glass of liqueur on Christmas Day and New Years Day. Click here to see our Christmas menus!
Many of us had visits from family members on Christmas morning or over the festive period, bringing gifts and treats for us to unwrap and enjoy. The lights on the Christmas tree sparkled and were reflected in the colourful baubles and the presents underneath it make it a sight to behold. Whatever age we are, Christmas is still a magical time!
Our residents enjoyed chef's traditional festive food
In the run up to Christmas we enjoyed visits from some hand-bell ringers playing us a repertoire of carols and seasonal tunes as well as a group of local singers who entertained us with well known carols that we could join in with. We also made festive flower arrangements, knitted square for blankets and our art class was focussed around Christmas too. Some of our residents visited local churches in Summertown for carol services or the traditional 9 lessons and carols, which were much enjoyed and helped to get us into the festive spirit.
At Christmas we remembered our families and Christmases past as we enjoyed our Christmas dinner and we thanked the Fairfield staff for their care. Next year we will all be in our new home for Christmas, so after 70 years, this was the final Christmas to be celebrated at old Fairfield and it was a lovely one.