Chief Nurse presents Team Award to Fairfield
England's Chief Nurse visits to celebrate Fairfield's "fantastic people"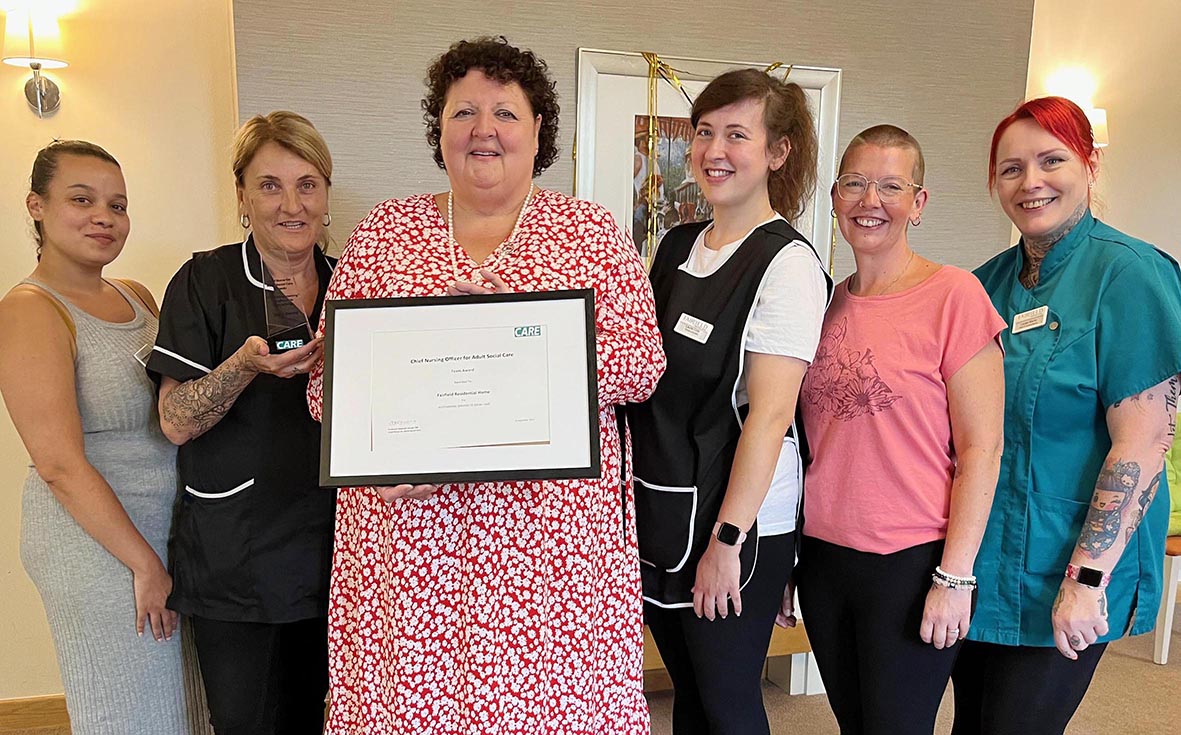 England's Chief Nurse, Professor Deborah Sturdy, with Fairfield team leaders (l.to r.). Cameo Brown (social well-being), Sue O'Neill (care), Prof. Sturdy, Laura Cole (care), Karen Conway (care) and Louise Martin (housekeeping).
England's Chief Nurse for Adult Social Care, Professor Deborah Sturdy, presented staff at Fairfield Residential Home with the Chief Nurse Team Award at a ceremony on Saturday in a lavishly decorated lounge with red ceiling hangings and carpets.  Celebrating their outstanding commitment and achievements at a gathering of over 80 staff, residents and their relatives, Professor Sturdy said: "I absolutely take my hat off to the Fairfield Team."
She added: "We've only recently launched the Chief Nurse Team Award to recognise carers' phenomenal contribution and I am delighted to present it to Fairfield to celebrate the massive work of the most fantastic people.   It's not just Monday to Friday, but 365 days a year that our carers get up, come to work and do amazing things."
The lounge was lavishly decorated for the Celebration of Achievement Ceremony.
The Fairfield Team were nominated for the award because of their courage and commitment throughout the pandemic, keeping residents safe and developing infection and control procedures which were reported by CQC as examples of good practice.  Trustee Dr Sally Hope, a retired GP who undertook an advisory role during the pandemic, said, "All the care staff, house team, cooks and administration staff worked far beyond their contracted hours to help the residents survive the infection crisis, and also to minimise change for the residents."  She added, "Some staff opted to live in the care home during the crisis, to give all their time to the residents. It is wonderful that their selfless sacrifice in the face of adversity has been recognised by the Chief Nurse."
Earlier in the year, Fairfield's Director of Care, Michelle Williams, had been awarded the Chief Nurse's Silver Medal for her clinical leadership during the pandemic, including her role in bringing to national attention on BBC radio and TV some of the inadequacies in care home guidelines.  Professor Sturdy made that presentation through a virtual ceremony so, she said: "It is a particular pleasure to be able to come to Fairfield in person to present my new Team Award in recognition of the phenomenal work that you all do."  Michelle said, "It is a real privilege to work with such outstanding people at Fairfield and for us to receive national recognition through the Chief Nurse Team Award is humbling but wonderfully rewarding."
Chair of Trustees, Dr John Guy, said, "Our vision at Fairfield is of an exceptionally happy home where residents enjoy a fulfilling later life.  It can only be achieved by having a strong and dedicated team working together and the Team Award from the Chief Nurse is a wonderful recognition of their continuing and dedicated commitment."