Each month Fairfield residents enjoy lots of different activities
Our April activities ranged from flower arranging to falconry with a lot more besides!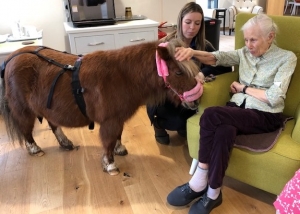 Each month Fairfield residents enjoy a busy programme of activities designed to entertain, educate, inspire, motivate and enjoy and our April activities ranged from flower arranging to falconry with a lot more besides.
Laura, our bubbly activities coordinator, puts together a varied selection of visits and talks, workshops and classes as well as outings that will appeal to everyone whatever their interests.
Many of our residents used to keep pets at home and so they always enjoy our visits from animals. In April we had wildlife visits from a falconer with a collection of birds, from a Shetland pony, a PAT dog and a cat. Residents were able to hold, stroke and feed many of the animals, bringing back memories of their pets and encouraging conversations about past experiences. The highlight was the falconers visit with a barn owl that flew across the room, as well as Kookaburra from Australia, a kestrel and an American Turkey Vulture.
Our residents really enjoy the wide range of activities that we provide each week
On the musical front we enjoyed listening to performances by a classical singer, saxophonist, guitarist, harpist, pianist and an accordionist, of which some tunes we were able to sing along to and a few of us even enjoyed getting up and dancing to certain melodies. We also marvelled at a wonderful performance by a flamenco dancer in a beautiful flowing dress as she dashed out her swirling moves to the sounds of Spanish guitar.
Many of our visitors share their knowledge with us so that we learn new things. Keeping the brain active is an important part of staying well and so we always include a number of talks in the programme each month to stimulate the mind. In April we had talks about the myths and mysteries of apples; travel; the traditions and history of May Day; children and war; and a memory-provoking visit from the Soldiers of Oxfordshire Museum complete with items to touch and hold.
It's not just our minds that need stimulating, physical exercise keeps us moving and is important to our health. In April we took part in seated yoga, keep fit and exercise classes with soft balls. There were also group walks for those who wanted to see more of Summertown, North Oxford and Oxford city or just to enjoy the lovely grounds and gardens of Fairfield.
If there is a special occasion during the month we always celebrate it and for Easter the staff put on an Alice in Wonderland-style Mad Hatters Tea Party for residents and their families and visitors. Dressed up as Alice, the Mad Hatter, the white rabbit and the Queen of Hearts the staff served a delicious cream tea with salmon and cucumber sandwiches, home-baked cakes and scones which was great fun.
You can see what activities we have planned each month here.