Visiting loved ones at Fairfield
Visiting protocol during lockdown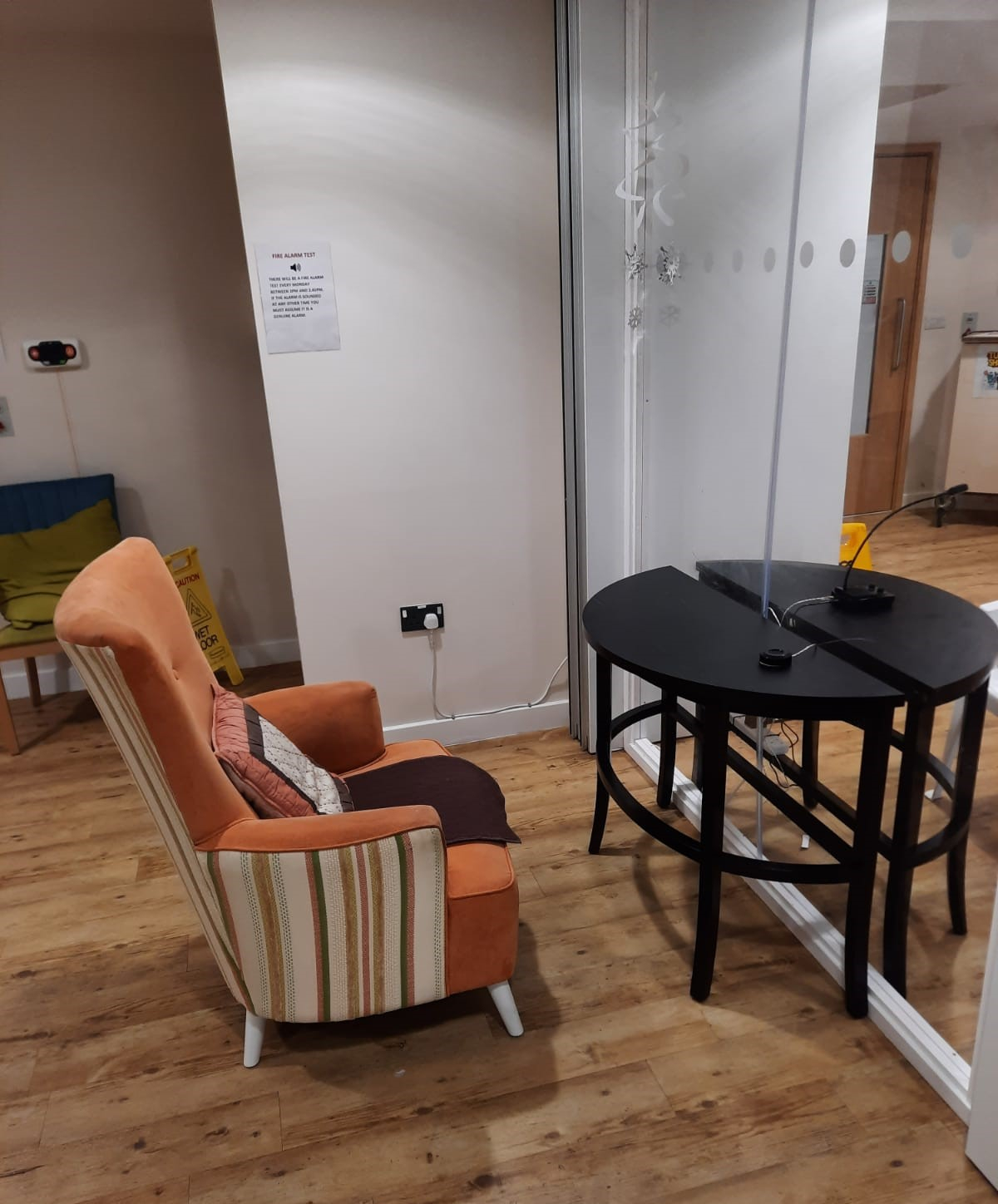 With the latest Coronavirus lockdown in force, the Government guidelines are that visits to care homes can only take place where homes have arrangements in place such as substantial screens, visiting pods or behind windows. Close-contact indoor visits supported by testing are not allowed and no visits will be permitted in the event of an outbreak.
At Fairfield our top priority remains the safety and wellbeing of everyone living and working here. Luckily, we have a COVID-safe visiting suite where residents can continue to enjoy seeing their families, friends and loved ones. The new visiting suite has a floor to ceiling Perspex panel, so residents and their visitors can converse freely without the need to wear a mask. Visitors enter the suite via a separate door from the garden, with no need to walk through the home, and residents enter their area from within the home. We have installed a microphone and speakers so that those hard of hearing are able to enjoy conversations, just like they would face to face!
Our visiting policy has to adapt to the ever-changing Government guidelines, but we encourage visitors with a 7 days a week provision. Visitors need to arrange their appointment in advance and we're offering 1-hour slots between 10am and 5pm daily for the 'constant' visitors (we have a list of the two 'constants' for each resident).
To make sure we mitigate the risk of virus spread, on arrival visitors need to book in and wash hands, answer health questions and have their temperature taken in their car or, if they have not come by car, under a gazebo outside the door of the visiting suite.
It's very reassuring to see Dad and we enjoy visiting him
We know how important a visit is for both the resident and their family. During these trying times, visits are essential for maintaining wellbeing and mental health. Seeing a loved one helps both parties, giving reassurance and hope, incentive and love. It also sparks wonderful conversations, reminiscence of past lives, shared friendships, the olden days, pets, people, neighbours, friends and family.
The joy and positivity that a lockdown visit brings is sometimes more than words can express and we enjoy seeing resident's faces light up when they see their visitors!