Dates announced for Open Days
Come and have a look around our new home!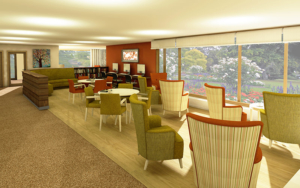 After 60 years in its current Victorian building on the Banbury Road, Fairfield is moving into a brand new, purpose-built care home in June 2018 and we are inviting any interested parties to come to our Open Days. The new care home, which is nearing completion, has been built just behind the original house in North Oxford and will offer residents a modern, spacious environment with quality facilities and continuing high standards of care.
Fairfield is holding two open days on Saturday 21 April and Wednesday 2 May from 10am – 4pm for prospective residents and their families as well as any interested party who would like to see inside the new home. To register interest in attending an open day or request further details email care@fairfieldhome.co.uk.
The contractors should complete the construction work by the end of March and we then have time, between then and June, to make sure that New Fairfield is properly fitted out, that everything works and that we are able to show the building to a large number of future residents on the open days.
New Fairfield has been designed with all the facilities required to be able to provide a homely environment for its elderly residents with 24-hour residential and respite care. It has 40 en-suite bedrooms, some of which are suitable for couples. The spacious living accommodation has ample windows and glass doors, which give residents both views over, and easy access to, the garden and established orchard.
Fairfield supports residents so that they can continue to live independent lives and to make the most of being in North Oxford. The stimulating programme of daily activities will appeal to all residents which includes lectures and talks; arts, crafts and hobbies; fitness and movement classes for mobility; as well as visits and outings.