Residents move into new Fairfield care home
Existing residents pack their bags and move to their new home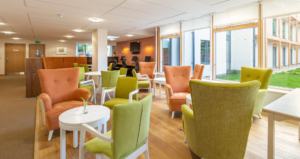 On 3rd July 2018 the residents of Fairfield moved into their new residential care home on the Banbury Road, at the end of a 2-year building programme that they have watched as it takes shape from the original Fairfield home.
After 70 years in the current Victorian building on the Banbury Road, the new Fairfield is a brand new, purpose-built care home, built just behind the original house in North Oxford. The new home offers residents a modern, spacious environment with quality facilities and continuing high standards of care.
John Cole, chair of Fairfield trustees, said,
"This is a momentous day for the staff, residents and trustees as well as the teams of professionals who have worked with us on this project over the last 8 years, from planning through to construction. The new Fairfield is already proving a popular as a home and we are looking forward to welcoming all our new residents now that the existing residents are safely installed."
This is a momentous day for the staff and residents as well as the teams of professionals who have worked with us on this project
New Fairfield has been designed with all the facilities required to be able to provide a homely environment for its elderly residents along with 24-hour residential and respite care. It has 38 en-suite bedrooms, some of which are suitable for couples. Designed by Oxford Architects Partnership and built by Kingerlee under the project management of Bidwells, the new Fairfield has opened on schedule.
The spacious communal areas have large floor to celling windows and glass doors, which give residents views over and easy access to the garden, rose garden and an established orchard.
Fairfield supports residents so that they can continue to live independent lives for as long as possible by making the most of living in North Oxford. There is a stimulating programme of daily activities to appeal to all residents, which includes lectures and talks; arts, crafts and hobbies; fitness and movement classes for mobility; as well as an increased selection of visits and outings.
Debbie Hayes, Fairfield manager, commented,
"The staff and all the residents are very much looking forward to life in our new home. We will take the caring ethos of which we are very proud to the new building, which has wonderful facilities for the residents, both those who have moved from the original Fairfield as well as the many new residents that we will be welcoming over the next few weeks."
Fairfield has released a number of rooms that are now available to new residents, including some that are suitable for couples. They are also offering bookable short-term respite care over the summer.
For further information on the rooms available for long or short term care, call Debbie on 01865 558413 or email care@fairfieldhome.co.uk