Miniature ponies visit us at Fairfield
Animal visits are one of the most popular activities at Fairfield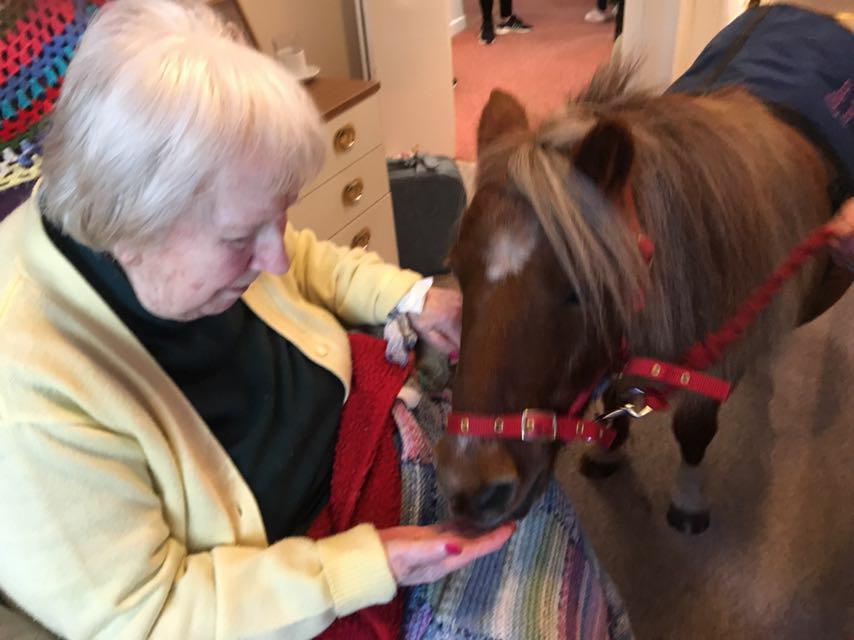 Fairfield residents were absolutely delighted with a recent visit from two miniature ponies. The ponies called Tinkerbelle and Lollipop came with their handler and enjoyed their day out of the field being fussed over by new friends. The ponies were led around the lounge area at Fairfield by their owner and all the staff and residents had the opportunity to stroke them. The ponies were on their best behaviour throughout and were very calm, especially when being stoked by the residents.
Tinkerbelle and Lollipop are just 30 inches tall so can easily get around a care home and visit people in their chairs or bedrooms. They are so small they can even go in lifts! According to their owners, they are intuitive and respond to the emotions of the people around them, which was in evidence during their visit.
All the residents were delighted to see and stroke these beautiful miniature ponies
We know that animal therapy has significant benefits for care home residents and our resident's certinaly love having new visitors. The physical contact with the animals is very therapeutic and provides sensory touch as well as reducing stress. Visits like this stimulate social interactions and often promote reminiscences from residents of when they had encounters with horses in their former lives.
Luckily, the ponies wear special tabards to prevent any little accidents left behind which gives everyone peace of mind. The ponies also enjoy the visits as they get the occasional piece of forbidden cake or biscuit.
Helen, the activities coordinator at Fairfield said, "This was the first visit we have had from Tinkerbelle and Lollipop and it was a huge success. All the residents were delighted to see and stroke these beautiful docile animals and we are already looking forward to their return."