Life in a care home during lockdown
Fairfield staff and residents are adapting to a new normal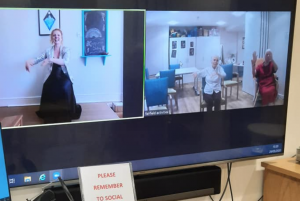 With the coronavirus pandemic lockdown, everything is the same here at Fairfield but everything is different. Life has changed. Gone are the days when we can gather all together in the hub and enjoy some entertainment, meals and activities and yet we do, just a bit differently.
Life in a bubble
We now operate in bubbles – three bubbles to be exact! One bubble represents one floor, so within our floor bubble we interact like a family but we don't interact with anyone from the other two bubbles. After the initial isolation period, this meant that we could come out of our rooms and meet up for a chat or to do the crossword on our corridors. This has now been extended so that each bubble has it's own designated room downstairs – one has the social hub, one the lounge and one the activities room. We can go and spend time in our designated room as long as we don't mix with people from another bubble. You might think this is difficult, but we all know how important it is to stay safe and the fact that we can get downstairs and join in with activities is wonderful!
Thank goodness for screens
These days screens provide the link to the outside world. We talk to our families and friends over Zoom, we do our exercise classes over Zoom, and we listen to musical performances, watch dancers and people reading poetry to us. The staff and residents are very grateful to the performers who would usually come into Fairfield, for taking the time to entertain us over Zoom from their own homes.
At the start of the pandemic and the lockdown Fairfield bought more tablets so that we can talk to our friends and families and see them on the screen. It's been a wonderful way to keep in touch with the grandchildren.
I am so proud of my team for going above and beyond to look after the residents throughout the lockdown.
Keeping active
We have activity packs delivered to our rooms each day, full of things to make and do. We planted sunflower seeds, that we are watching grow; we made Easter cards for our families; we have done crafts, painted pictures and decorated cakes. Although we're missing playing games, we have enjoyed doing quizzes and crosswords together sitting outside our rooms on our corridors with the activities staff.
We've also been keeping fit. Our regular exercise class teacher has been doing the classes on Zoom. So we've been doing seated exercise most days.
Being sociable
One of the biggest challenges for people living through coronavirus pandemic in their own homes is loneliness, but here at Fairfield we're certainly not lonely! With the care staff, activities team and the housekeeping staff all around us all day every day, there's always someone to chat to in addition to the other residents in our bubble. We can speak to friends and families on the phone or 'see' them on video calls using the tablets that Fairfield have.
What next…..
With the relaxations of the social distancing rules starting to come in to play, hopefully we will be able to have short visits in a designated area of the garden from a family member very soon and, you never know, we may be able to get out for a socially distanced drive in the minibus to see the sights of Oxford…..fingers crossed!