Pete's giant sunflowers
Fairfield residents' lockdown sunflowers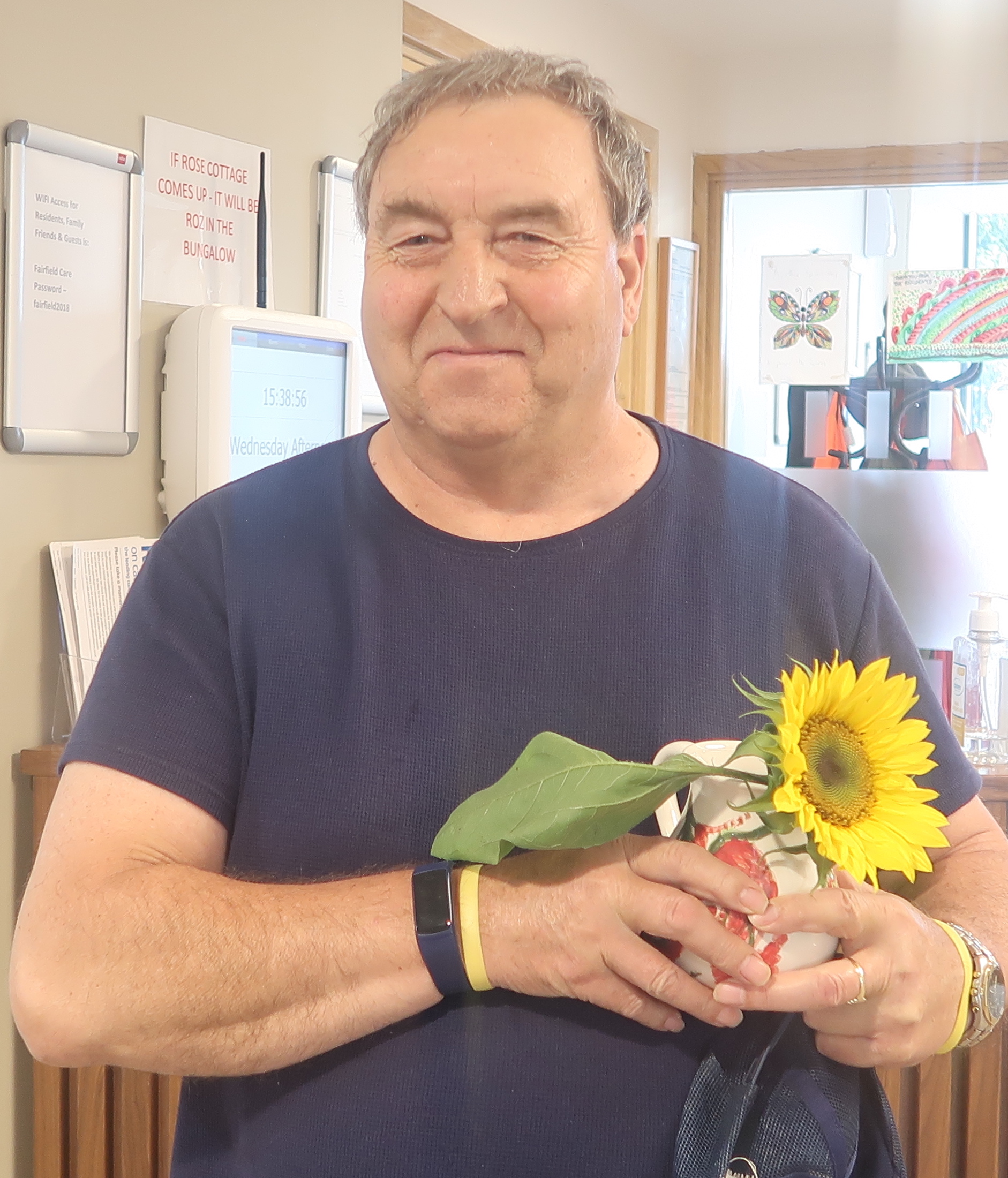 At the beginning of lockdown one of our activities was to grow sunflowers. At the time residents were restricted to their rooms and our activities team was keen to keep everyone busy, entertained and happy in the very strange and difficult circumstances.
We gave every resident some sunflower seeds, some soil and a pot and encouraged them to plant, and then tend for, some sunflowers. Initially the pots were placed on their windowsills and everyone watched their pots daily until eventually little green shoots popped up from the soil.
As they grew, we were able to plant them outside in the garden nurturing them through the hot sunny weather. They grew, and they grew and they grew!
One of our keenest gardeners is Pete, who grew 2 sunflowers that measured over 9 foot tall. Pete is definitely green fingered!
I love being outdoors in the garden at Fairfield. My sunflowers just grew and grew – they're amazing!
We're always keen to encourage our residents to keep up their interests, whatever they may be. Many of them enjoy gardening and luckily we have a large garden here at Fairfield where they can indulge their passion for growing plants and flowers.
Having a large garden means that residents who enjoy tending to plants or growing vegetables can continue to do so. Our maintenance crew will be building some high wooden planters that enable people to attend to their plants from a seated position, without having to get down on their knees. In the meantime they have built some pot-holders from pallets and painted them in bright colours which the residents take great pleasure in and allows them to tend to the small plants in the pots.
For those residents who want to enjoy, rather than grow, the flowers and plants, our garden has lots of paths that are suitable for elderly people with walkers, so that they can get our into the orchard or walk around the lawn to admire the flower beds.
We're lucky that bees and butterflies are attracted to our garden and lots of us enjoy watching them flit from flower to flower. We also have lots of birds that come and visit our bird feeders and sing to us as we sit in the garden enjoying the warm weather.
So from tiny seeds, giant sunflowers grew and Pete now holds the record for the tallest sunflower at Fairfield, until next year maybe!