Fairfield's garden gets good use
Activities in the garden this summer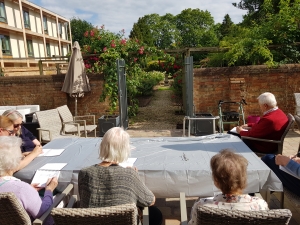 We are lucky at Fairfield to have a lovely garden and plenty of outside spaces that we can use when the weather is nice.  Many residents like to sit in the shade and enjoy listening to the birds and seeing the flowers whilst they read a book, knit, do a crossword puzzle or talk. Some enjoy taking a stroll though the rose garden or the orchard area or just along the paths around the garden.
But this summer we are making full use of the garden for more than just pure enjoyment by taking some of our activities outdoors. We have invested in some outdoor games that enable us to be in the fresh air and are doing some activities normally reserved for indoors out in the garden.
The courtyard area is perfect for playing outdoor bowls. Although some residents had played bowls in the past, most had never played bowls before and so they were keen to have a go. They were soon enjoying competing against each other for who could get the ball the furthest and onto the target. A few balls ended up in the bushes, but we had lots of fun together and ended off the session having a cold drink under the parasol to cool down.
The art class also moved outside to sketch the rose garden. We have lots of talented artists and they enjoyed having the opportunity to get out and sketch and paint some of the beautiful flowers using watercolours. Our art teacher gave useful tips and insights into how to draw flowers and outdoor scenes and the resulting paintings were beautiful. They are now on display in the activities room.
I had never played bowls before, but it was great fun!
We have also enjoyed a few BBQ's outside. Our chef has been in charge of cooking the sausages and burgers on the barbeque to go with the delicious fresh salads he makes. We have been using our new outside tables and chairs to eat at whenever we can and are always happy to sit awhile longer chatting in the warm weather.
We even held our 1stbirthday party in the garden one evening with a string quartet playing to entertain us. Friends and families of residents and staff joined together to celebrate the first anniversary of moving into new Fairfield.
Many of our residents miss their gardens from home so enjoy having one that they don't have to look after, cut the grass, prune or dig up the weeds! For those who enjoy their gardening we have a Garden Committee tends to the raised pots throughout the rear of the building. Getting outside in the sunshine and fresh air makes everyone feel better and here at Fairfield we are all really enjoying our garden this summer.