Easter traditions at Fairfield
Chef serves delicious Easter menus to residents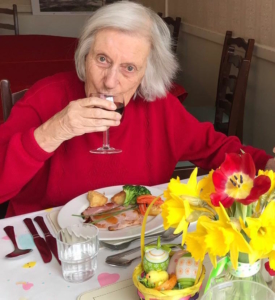 Easter is a joyful time of year when we follow traditions like Easter eggs, spring flowers, cards and church services. Easter is usually spent with families and so we make sure those residents not able to see their own families enjoy Easter with their Fairfield family.
The kitchen team at Fairfield always provides delicious food that is nutritional and that the residents enjoy eating on a daily basis, but at special times of year we like to keep the traditions of serving seasonal dishes and this Easter was no exception. Chef Lucaz prepared some very special Easter menus and served a selection of delicious food over the long weekend.
On Good Friday we enjoyed fish, as is the Good Friday tradition, with pan-fried seabass with garlic lemon butter sauce, spring vegetables (baby carrots and asparagus tips) and parsley buttered new potato crush, which was served with a glass of wine. Later in the afternoon we had buttered hot crossed buns with conserve for tea.
On Easter Sunday, some residents went to our local churches for Easter Sunday services, returning in time for morning coffee in the lounge, which was accompanied by chocolate mini egg nest cakes. Lunch was apricot glazed roast ham served with roast potatoes and roast root vegetables selection and once again wine was available for those who enjoy a glass with their meal. At afternoon tea we had a slice of traditional Simnel cake.
Lunch on Easter Monday was delicious! We had roast lamb roulade stuffed with prune, garlic, marjoram and thyme stuffing, port rich gravy reduction, fluffy buttery mash, baby broccoli stems and butternut squash purée. Those with a sweet tooth tucked in to individual strawberry tarts as dessert to finish off the meal.
Have a look at the Easter menu.
We had such a lovely Easter
There were plenty of Easter eggs and spring flowers around Fairfield, including a vase of mixed daffodils and tulips on every table in the dining room, making everywhere look very bright and spring-like. We had lots of visitors as families and friends popped in to join residents for coffee and tea or just to say Happy Easter.
This is the last Easter we will have in our original Victorian residential care home. Next year we will be celebrating Easter together in our fabulous new home. Let's hope the Easter bunny can still find us!