The new John Cole Dining Room
Fairfield dining room named in honour of long serving trustee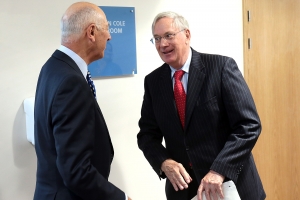 John Cole has been Chairman of the trustees of Fairfield residential care home for over 30 years and to honour his outstanding service, the other trustees decided to name the new dining room after him. Much to John's surprise, HRH Duke of Gloucester unveiled a special plaque on the wall outside the dining room as part of the grand opening ceremony for new Fairfield.
After HRH Duke of Gloucester had officially opened new Fairfield, Kevin Minns, another Fairfield trustee, gave a short speech about John's unstinting service to Fairfield. The Duke then unveiled a second plaque, this one for The John Cole Dining Room. It came as a complete surprise to John who had no idea what was about to happen!
Kevin said, "It is quite a responsibility being Chairman of any charity, let alone one that cares for elderly people, but to do so for well over thirty years and to successfully lead the charity from an increasingly ageing building to this wonderful new space deserves proper recognition. All the trustees, staff, residents and their families, past and present, owe John a huge debt of gratitude and naming the dining room after him acknowledges John's contribution to Fairfield in a small way."
Naming the dining room after John acknowledges his outstanding contribution to Fairfield
John said " I am delighted to have the beautiful new dining room named after me. It was a wonderful idea and to have HRH Duke of Gloucester to unveil The John Cole Dining Room plaque made it a very special occasion."
Fairfield is owned by a registered charitable company overseen by a Board of Trustees, of which John Cole is the chair. The John Cole Dining Room has large glazed doors and windows that look out over the rose garden and it is where the residents enjoy coming together to eat their meals.