The delight of COVID safe minibus outings
In these difficult times, getting out and seeing the local countryside and towns makes a real difference to everyone's mental health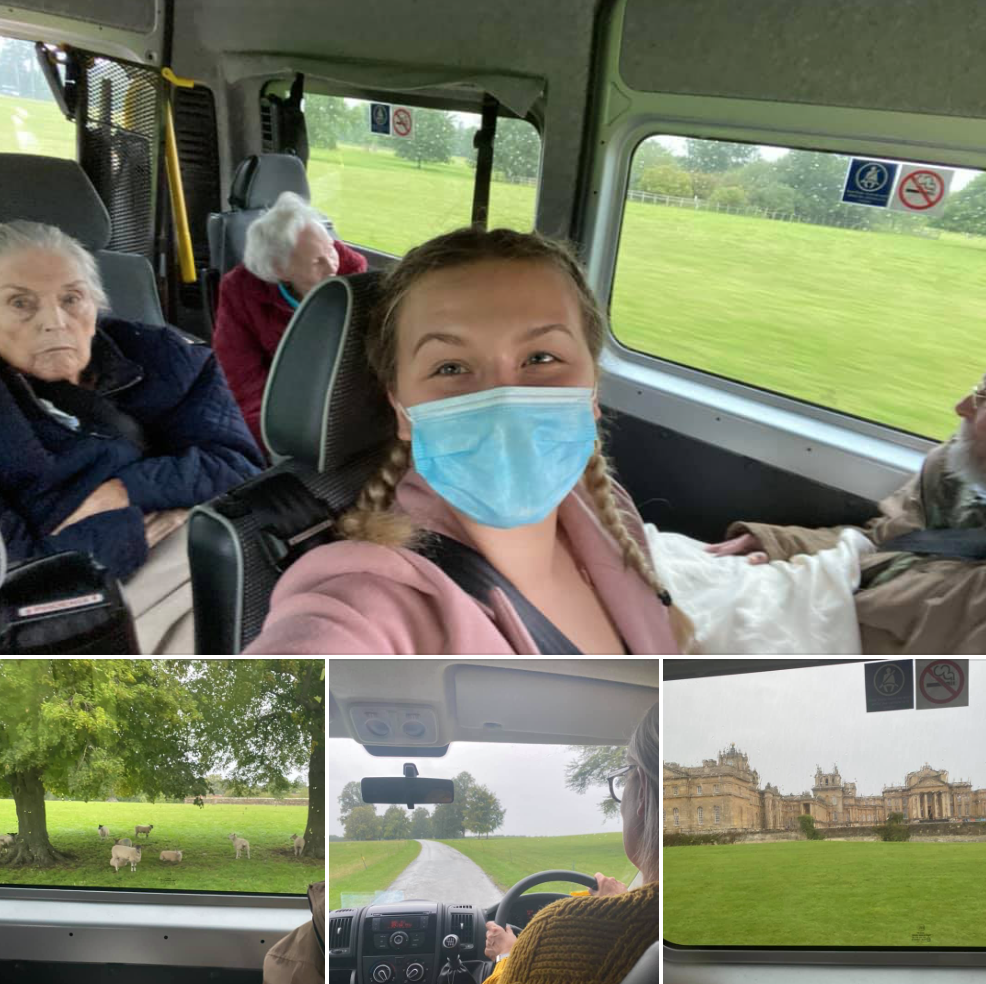 We're lucky to have our own minibus, which means that even in COVID times, the world, or at least Oxford, is our oyster.
Since lockdown, having the minibus has meant that we have been still able to get out of Fairfield and see what's happening in the world around us. Three times a week we go on drives round the local area without getting out of the minibus, which makes it COVID safe!
Just driving into Oxford city centre has been very different to pre-COVID times. Seeing the beautiful college buildings without the usual crowds of tourists highlights just how privileged we are to live in the centre of Oxford.
We have enjoyed driving around the Cotswold countryside seeing the seasons change. We were even given special dispensation by Blenheim Palace to drive around the grounds, something that is not normally permitted!
Minibus trips are organised 3 times a week and any resident can go. The minibus has seats for 8 passengers, although to make them COVID safe minibus outings, we go out in our floor bubbles and the staff wear appropriate PPE. It also has a powered lifting tailgate so that residents in wheelchairs or those with limited mobility can get in and out easily.
One resident said. "The minibus opens up the outside world to us. We're no longer tied to being indoors and however difficult it is for us to get around physically, we are able to join in with the outings. It is very exciting and lovely to get out and about."
It's a delight to see the residents setting off on an outing and then hearing about what they have seen on their return
Before COVID we used to go on outings whenever and wherever we wanted to. Going into Oxford was a popular trip either to Blackwells bookshop, to the shops, to Pitt Rivers Museum or to the Ashmolean.  Having our own transport meant that we could go to local garden centres for afternoon tea or morning coffee and a bit of shopping. Yarnton Home & Garden and Millets Farm Centre were popular destinations and just before lockdown we'd planned a trip to Burford Garden Company.
The residents have set up a committee to decide where to go, places they want to visit and things they want to do. The Fairfield activities team then arrange a weekly programme of outings based on these suggestions.
Debbie Hayes, Fairfield's Registered Manager said, "Having our own minibus is a real bonus for the residents during these COVID times. It's a delight to see them setting off on an outing and then hearing all about what they have seen when they return."