August activities at Fairfield
Each month we have a carefully planned calendar of activities for Fairfield residents to enjoy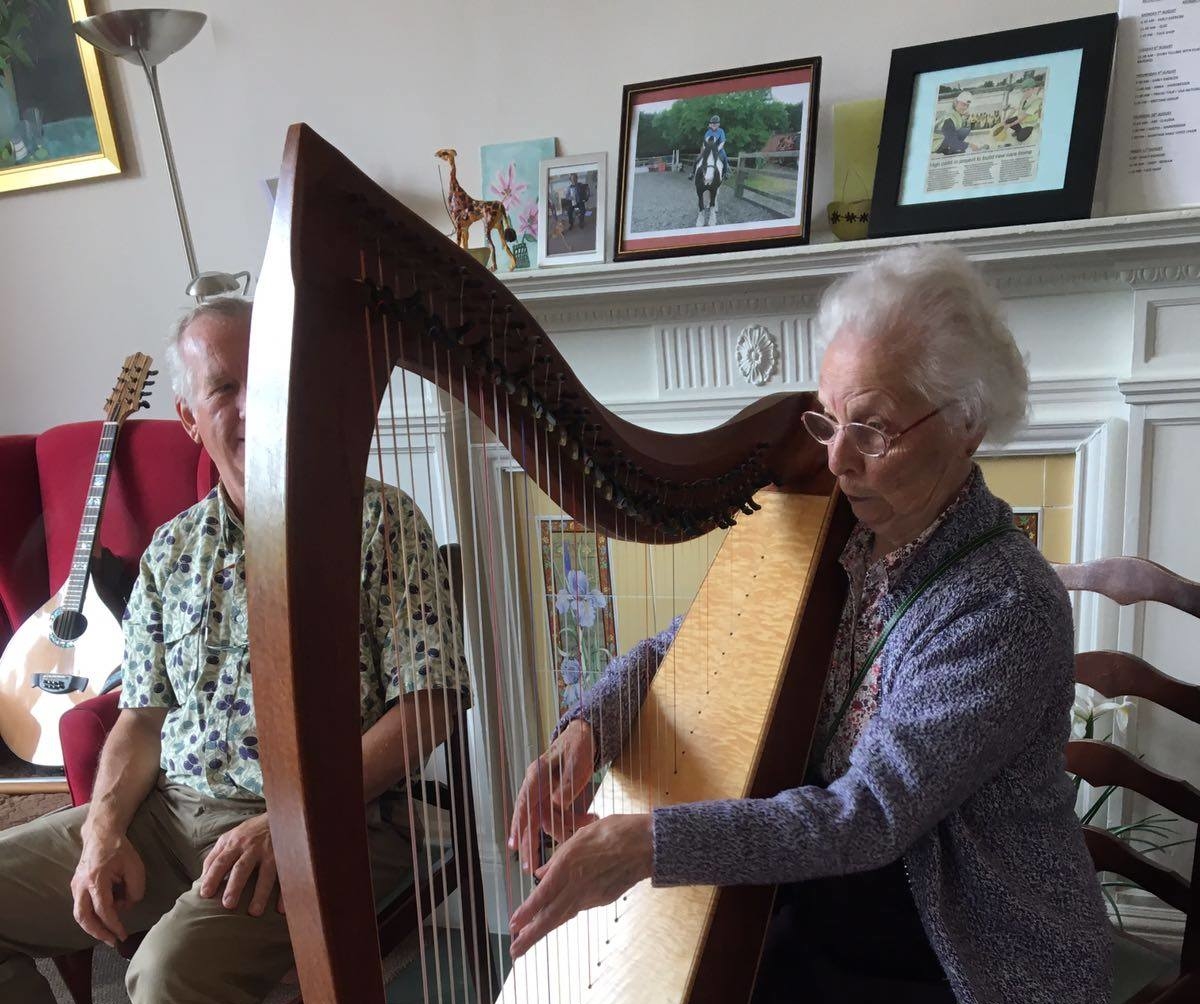 We always have a busy schedule of activities at Fairfield designed to provide something that everyone will not only enjoy but also benefit from in some way. Our carefully planned calendar of events each month includes music as well as crafts, exercise and talks, games and visits. These all provide intellectual stimulation, spark conversation, get us moving or keep our hands busy as well as getting the creative juices flowing!
Here is just a sample of the many activities we enjoyed in August.
Harp music to relax to
Rowan Bennet first played her harp at Fairfield when she was just 16 years old and is a regular visitor to entertain us. Rowan played a traditional Celtic harp whilst her father accompanied her on traditional guitar and whistles. The talented duo played old-style and modern pieces written and arranged by Rowan herself. Residents described the sound of the harp as being soothing and peaceful as well as cheery and joyful, with the soft vibrations making for a relaxing and peaceful interlude.
Following Rowan's performance, one of our residents had a chance to play the harp. Mrs Dendy was over the moon to have the opportunity to enjoy having a little lesson and being able to play the harp herself. She said, "I may need a few more lessons but it was so much fun."
I may need a few more lessons but playing the harp was so much fun!
Summer flower arranging
Penny Blossoms came to give us yet another wonderful flower arranging class, this time using a selection of summer flowers. She helped us to arrange some beautiful cream coloured flowers that complemented the dark blue thistle and pale green pots.
Knitting blankets
Many residents take part in the Knitting Club and are busy knitting squares, which are then joined together to make these lovely bright, multi-coloured blankets. The group has been so busy clicking those knitting needles that we nearly have enough blankets to give as a gift to each resident.
Innocent Smoothie bobble hats
The Knitting Club of residents and volunteers knitted 37 mini bobble hats with pom poms, which are to be used on Innocent Smoothie bottles. For each knitted hat, 25p is donated to Age Concern so we are keeping out hands active and helping a charity at the same time.
Click here to see what activities we are enjoying this month!