Celebrating the 75th anniversary of VE Day at Fairfield
Marking this special day with socially distanced street parties on each floor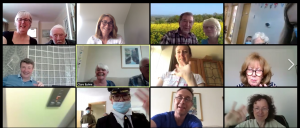 We marked the 75th anniversary of VE Day in style even though we are all socially distancing from each other.  The afternoon's celebrations began with a Zoom sing-along with Trustees and managers joining in virtually.  First there was the sounding of the Last Post by ex-RAMC Bugler Dan Ellis, who is the son-in-law of our Director of Care, Michelle Williams, from his home in Reading, and then the whole home broke out into song with Vera Lynn's, We'll meet again.
Then the residents of Fairfield all enjoyed a socially distanced 'street party' on each floor. Carers and staff dressed up for the occasion, to the delight of residents, and the day brought back a lot of memories and reminiscences to the Fairfield community, some of whom were children and young adults on VE Day.
The VE Day street party was the brainchild of Laura Totton, Head of Activities, who herself dressed up as a pilot.  She said: "I wanted to make the party traditional so the food and decorations were very similar to what they would have enjoyed in 1940s. All food was home made by our chefs and it was a very British menu – Scotch eggs, scones with strawberries and cream, cheese and pickle sandwiches, all washed down with a glass of wine."
Cecilia, one of our residents, said, "The party was really nice, we were able to think about what it meant to us then and also what it means now.  I enjoyed hearing lots of stories from other residents and I loved singing along to Vera Lyn altogether – the words were so appropriate. I am very grateful for all of the effort that was put in and it was so impressive to be able to have separate parties on each of the three floors."
Another resident, Elfie, said: "VE Day was such a good thing for our generation and Friday made me think about how we were feeling then and how we are feeling now.  My mother was a suffragette and voted for Churchill, it made us a better country. Our fun day remembered our finest hour – the party and effort made was absolutely marvellous and so lovely."
I wanted to make the 75th anniversary of VE day very special as a lot of our residents are missing their family and friends because of the lockdown
Many of the residents were teenagers when it happened. The 75th anniversary celebrations triggered lots of memories.
Elizabeth was 15 on VE Day and she still has photographs from that time. She really appreciated the portrayal of the day, she thought the decorations were good and fitting, and the food was excellent. "It brought back a lot of memories of a 15 year old girl," reminisced Elizabeth.
Anne was 13 and remembers having a bonfire and fireworks with her parents on VE Day.  Of the party she said, "We had a super tea party on Friday and lots of us talked about old memories. We would like to thank all the Fairfield staff for trying so hard and making it special for us. The fancy dress was really good and very fitting."
Organiser Laura Totton added, "I wanted to make this day very special as a lot of our residents are missing their family and friends, because of the lockdown.  It was great to feel the sense of community and camaraderie within our own Fairfield family."